Bagpiper For Hire in Wooster, Ohio
Nathan is a well-respected bagpiper with over 25 years of experience piping at both large and small functions. He actively competes at Highland Games as both a soloist and as part of a band. Nathan is available for hire in the greater Wooster, Ohio area.
Rates And Booking Info
Rates vary on the type of event and proximity to Wooster. General rate range is $250-$400.
The rate charged is not based on the amount of time performed but rather based on Nathan's experience and the quality of music he provides. His background is in solo and pipe band competition that has taken him all over the world – including competing in highest level in pipe bands and having studied world renowned piping instructors. You can get cheaper, but you won't always be guaranteed the quality.
Nathan charges by the event, not by the hour. Like most hired musicians, a funeral service in a church and a graveside service are considered separate events. A discount is offered for playing both.
INCLEMENT WEATHER
It is important to note that there are occasions when Nathan has the right to refuse playing outside. These situations include harm to his bagpipes/himself and anything involving extremes in weather conditions.
PAYMENT METHODS
Nathan accepts cash or check. He requires payment on the day of the event and prior to playing.
Contact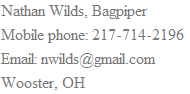 ABOUT
Nathan has been playing the bagpipes since 1994 and have performed on a variety of stages. He currently competes as a soloist and am also a member of the Greater Midwest Pipe Band. Nathan have competed throughout the United States, Canada, Scotland, New Zealand, and Australia. He has (twice) won the Grade 1 Champion Supreme Award (piobaireachd) within the Midwest Pipe Band Association and competed in top level (Grade 1) pipe bands, including the Manawatu Scottish Pipe Band in Palmerston North, New Zealand and the City of Washington Pipe Band in Washington D.C.
Nathan performs for all denominations, ethnicities, and backgrounds.